photovoice method in practice
The Tuus in Smerdiek initiative works hard on connecting (the inhabitants of) the village of Sint- Maartensdijk. One of the ways they do this, is by making the beautiful 'Tuus in Smerdiek' magazine. Recently, they published a post on Facebook in which they asked people to contribute to the Photovoice project that we are currently managing for Empowercare. And the good news is, that their post was met with enthusiastic responses! People are getting involved.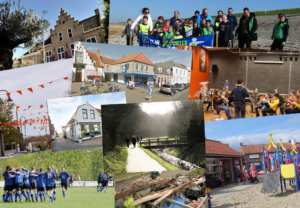 Their call (in Dutch) went somewhat like this:
"What connects you to people in Sint-Maartensdijk?
We would like to know how you see this: what connects you to other people in Sint-Maartensdijk? Sports, the choir, a bench near the sea dyke?
Make a photo of it."
The screenshots below show the original call to action.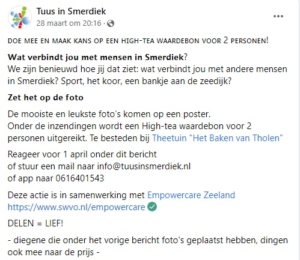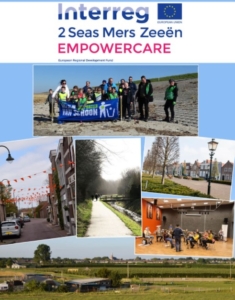 The Photovoice method is used to gather data by means of photos. Participants can give their opinion or tell what their impression of something is, by sharing pictures on a certain theme.
There is, by the way, more news on the Photovoice method. It is also used for evaluation of the project Digitaal Actief Zeeland. By sharing pictures, participants in this project can share what digital daycare for adults means to them.
We work together!
#DigitaalActiefZeeland #DigitaalThuisinZeeland #EMPOWERCARE #EmpowercareZeeland #SWVO #TuusinSmerdiek